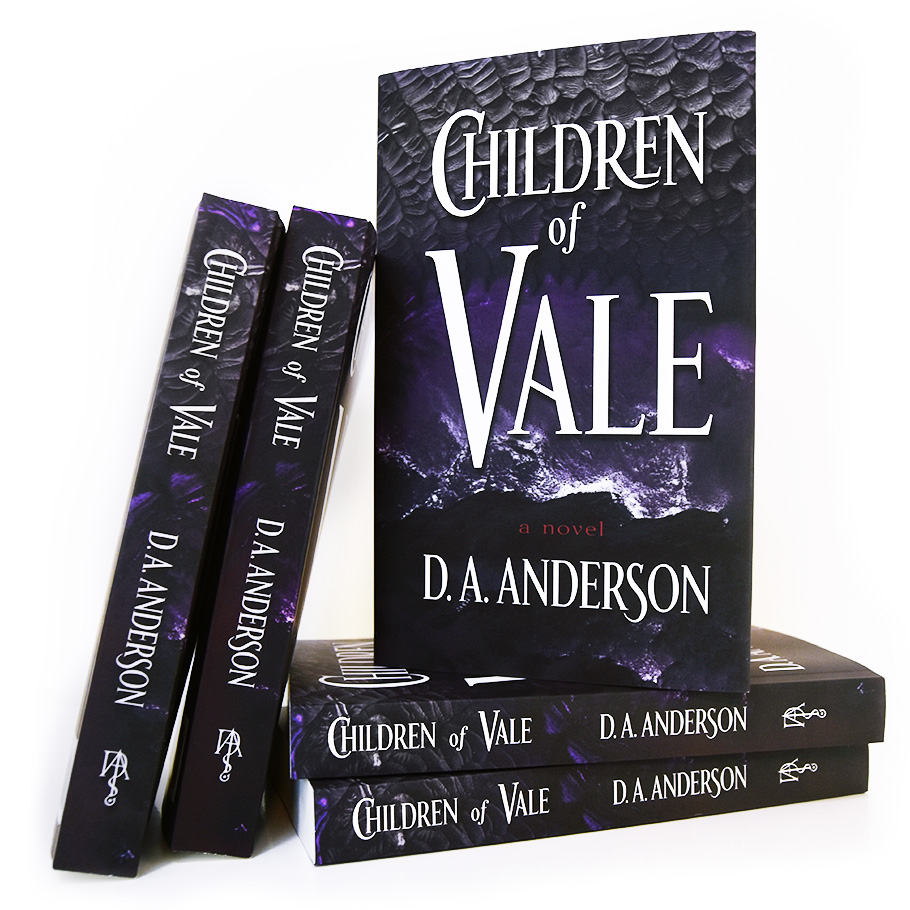 An alien world. A hidden race. A girl haunted by visions must discover an ancient secret.
Ostracized by those who don't understand her, her search for belonging will lead her to find the truth behind her civilization's genesis and, ultimately, lay the seeds for its final destruction.
Her life, the lives of her kind—and humanity itself—hang in the balance.
5 Stars
A completely unique story about a woman who discovers her greater purpose. Anderson does some heavy lifting in building a new world. His descriptions are easy to picture in the mind's eye…
— N. Rumeau,
Kickstarter Backer
Read the review on goodreads
Paperback

5" x 8" Quality-printed Paperback

396 Creme-colored Pages

$15 on Amazon, B&N, and more…

Best for the casual reader who wants to experience the novel in print. This perfect-bound paperback with a silky, matte-finish cover ships internationally.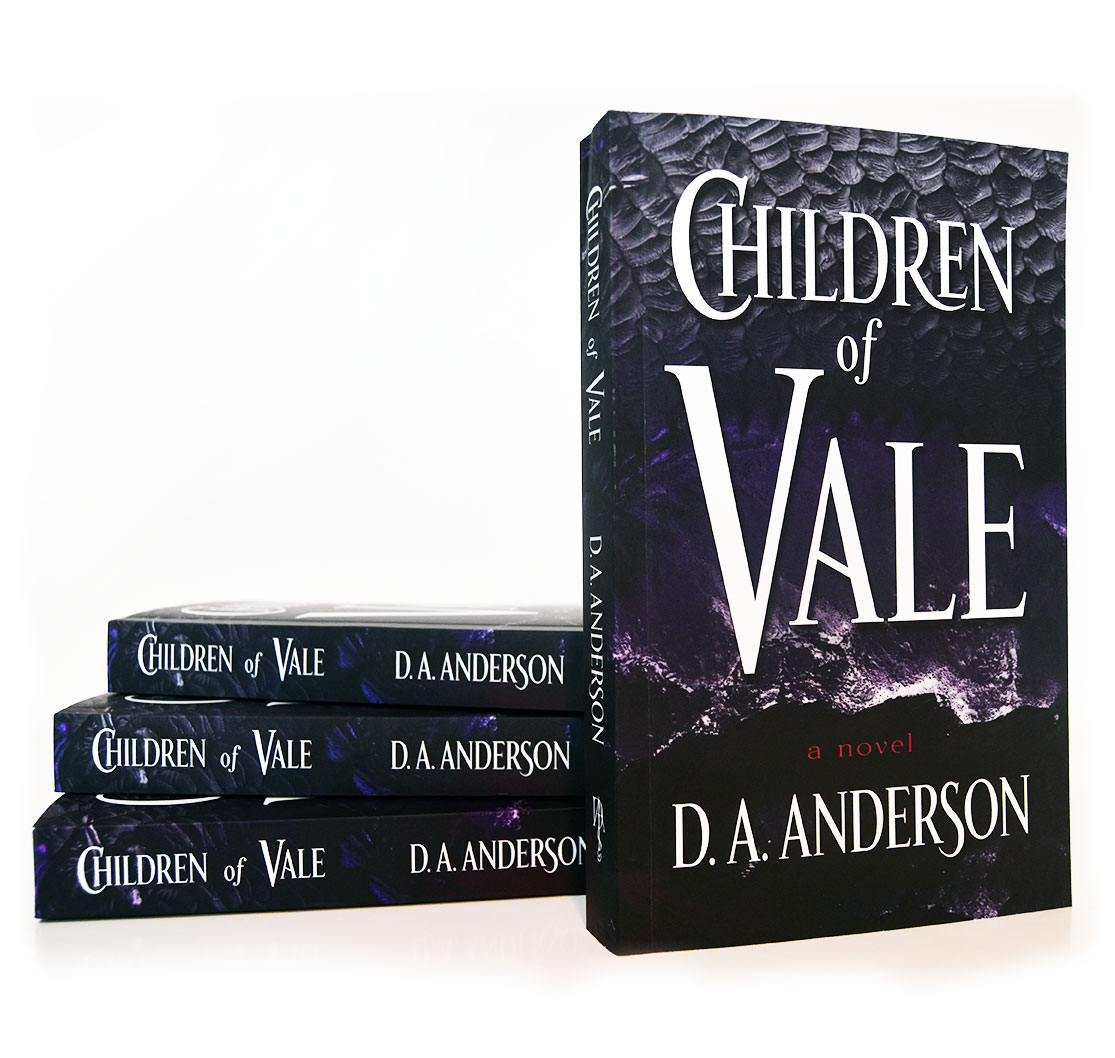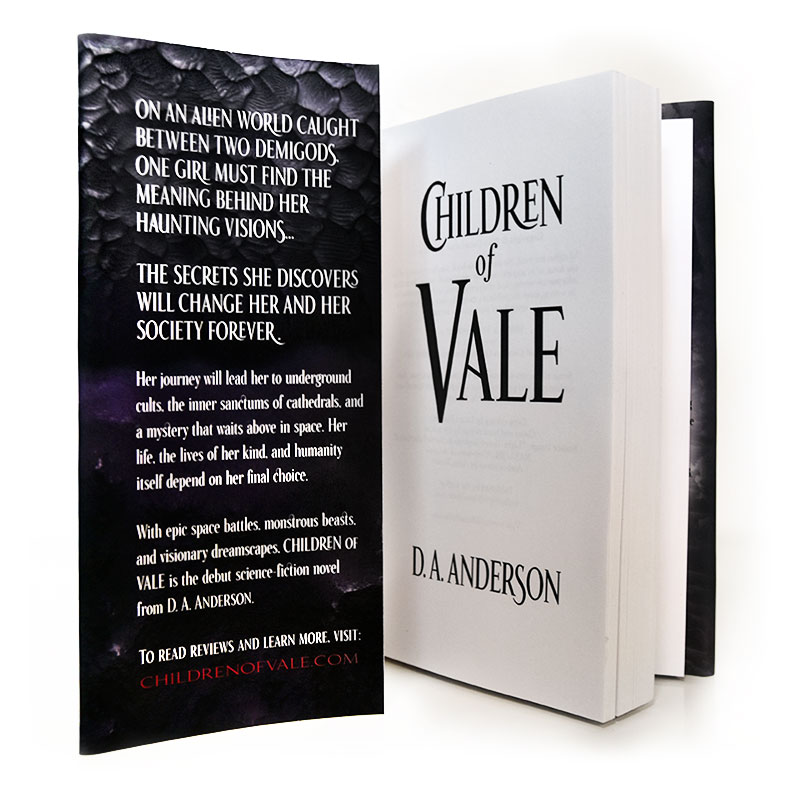 5 Stars
I love the way we as the readers join in with the protagonist on a journey of discovery slowly piecing together the mysteries of Vale… I have a hardcover copy of the book and I love the thought that went into the design.
— Barbara Wechter,
Kickstarter Backer
Read the review on goodreads
Hardcover

5" x 8" cool gray fabric hardcover

Matte-finish dust jacket

Bleach-white pages

$25 on Amazon, B&N, and more…

A premium hardcover with a bleached interior and printed dust jacket, shipped direct from the printers.
5 Stars
I really enjoyed the book. The story is different than almost everything else I've read. Well written. Looking forward to reading more from the author!
— Amazon Customer,
Kindle Format
Read the review on amazon
E-Book

EPUB & MOBI formats

Leverages e-reader features like font sizes and night mode.

$10 on Amazon Kindle, Kobo, iBooks, B&N Nook, and more…

E-book edition available for e-readers like Kindle and Nook. Compatible with a variety of tablets and phones.